Evgenii B. Rudnyi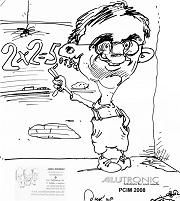 The site contains my public archives. This page serves as an index.

Picture above is made by Juri Didenko

My e-mail:
Private evgenii at rudnyi point ru.
I understand Russian, English, and German.

Due to differences between Cyrillic and Latin alphabets, my name can be also spelled as Evgeny Rudny.

My sites:
1989: The "Leninskii komsomol" award in the area of science and technology for experimental works in high temperature mass spectrometry. This used to be a prestigious Soviet award for young scientists. Announcement in Russian.
1995: "Soros Associated Professor". An award of International Soros Science Education Program in recognition and appreciation of outstanding contributions to science education at the university level.
1997: Award of International academic publishing company "Nauka" for the best publication in journals of this company.
2005: Paper "Dynamic electro-thermal simulation of microsystems:a review" is included in the best 24 papers of Journal of Micromechanics and Microengineering for 2005.