Evgenii B. Rudnyi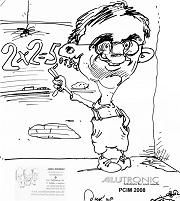 The site contains my public archives. This page serves as an index.
My e-mail:
Private evgenii at rudnyi point ru.
Work erudnyi at cadfem point de.
I understand Russian, English, and German.
Due to differences between Cyrillic and Latin alphabets, my name can be also spelled as Evgeny Rudny. The correct spelling in Russian is Евгений Рудный.
I am working for CADFEM GmbH, Germany, working with ANSYS Multiphysics, Icepak, Virtual Nanolab.
Simulation for Electronic (in German).
My sites and discussion lists: